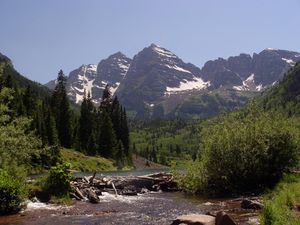 Chris Collins and Boulder Canyon
A Tribute to John Denver
ABOUT US
Chris Collins and Boulder Canyon have toured internationally together delighting audiences with their talent, warmth and humor.  Collins and some of the original artists of Boulder Canyon originally met in Aspen, Colorado at the largest annual celebration of John Denver's life and music.    Since that first initial meeting, Chris and Boulder Canyon have gone on to tour from coast-to-coast to pay tribute to the music of John Denver.  With similarities between Chris's and John's voices, award-winning singer, songwriter Chris Collins brings amazing energy and the unmistakable enthusiasm to the stage that was a hallmark of a John Denver performance.   The consummate musicians of Boulder Canyon consists of  Alexander Mitchell on mandolin/fiddle/lead guitar, Nigel Newton on keyboards,  Ralph Gordon on upright bass, and guest band member Robbie Saunders on bass and dobro.  Hailed as outstanding tribute artists for their authenticity and musical style, Chris Collins and Boulder Canyon have been receiving much acclaim from audiences in theaters, venues and concert halls everywhere they perform.  From sold-out shows to breaking a theater record for the largest audience ever to attend an event, Chris Collins and Boulder Canyon have emerged as top performers of John Denver's music. 
Chris Collins and Boulder Canyon are not an impersonation act, but seek to honor John Denver's legacy with fresh energy and musical integrity in keeping his timeless music alive.  Through the show's stunning visuals of nature and captivating performance, Chris Collins and Boulder Canyon will take you back to the days reminiscent of the concerts of one of the greatest artists and humanitarians of our time.     
CHRIS COLLINS
(guitar, banjo, lead vocals)
Born in the little town Wind Lake, Chris grew up in the rolling hills and hardwood forests of southern Wisconsin.  He didn't find his musical outlet until he picked up the guitar at the age of 17.  It seldom left his side.  It opened the doors for him that had previously seemed locked.  It brought new friends and a way to express himself beyond his natural shyness.
He soon found himself playing regular shows at Milwaukee area clubs while attending the University of Milwaukee, Wisconsin.  Soon his music took him on the road and away from the classroom.  In 2001, Chris recorded his first album, Alberta Skies and was nominated for Producer of the Year and Album of the Year.  It seemed the path was laid to an original music career.
It was the exposure from his original music that led to the chance meeting with his current band members.  A path that he could not have anticipated.  He soon found himself producing large shows at major theaters.  John Denver's music has provided him with an opportunity to play for audiences that he only dreamed of.
Chris recently was quoted as saying, "I frequently hear fans tell me what a gift I am to them.  But the truth is, that the audience is a much greater gift to me, and we so appreciate their support."
ALEXANDER MITCHELL
(fiddle, mandolin, vocals)
Alexander was born in New York City.  He spent most of his childhood in the beautiful hills of New Jersey and loves to spend time in the pine mountains of Upstate New York.  He is a Berklee graduate and a multi-instrumentalist who plays fiddle, mandolin, guitar and has a distinguished Americana voice.
Alexander started playing fiddle in 1978 after hearing bluegrass music.  Since then he has been cultivating such diverse styles as Appalachian, bluegrass, Klezmer, traditional roots dance music, ballroom, hot swing, and jazz.
Now living outside of Frederick, Maryland, he teaches music when not traveling.  He toured nationally with the Missouri Repertory Theatre performing Woody Gutherie's American Song.  He also appeared in and recorded music for the soundtrack of the Ted Turner movie Gettysburg, along with numerous other stage and theatrical productions.  
Alexander has performed at the Millennium Stage, the Kennedy Center, Lisner Auditorium for the "Revels," the Birchmere, and other prestigious theaters across the country.
NIGEL NEWTON
(piano, keyboards)
Multi-talented artist Nigel Newton performs with Chris Collins and Boulder Canyon on keyboards and piano.    Nigel  has performed since he was a teen winning several composition awards.  A  graduate of the prestigious Berklee College of Music, Nigel is versatile on the piano, keyboards and the vibraphone.  From jazz to blues to root to country and folk music, Nigel also performs throughout the  Dallas, Texas  area  for various bands and special events across a spectrum of genres of music. 
Ralph Gordon
Upright Bass
With more than 50 years of experience as a musician, Ralph Gordon brings the beautiful sound of the upright bass to select concerts.   A classical trained artist who studied music at West Virginia University and Manhattan School of Music, Ralph has played with multiple musicians across a wide spectrum of music genres.  Ralph toured with Fred Waring and the Pennsylvanias and Trapezoid and has performed at Carnegie Hall, Kennedy Center, and many prestigious venues and festivals around the world.