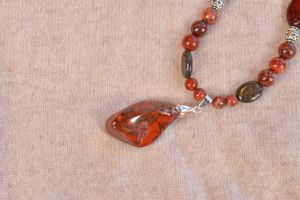 With his love of the outdoors and being in nature, Chris's  adventures have taken him to the mountains, deserts and coastlines of the Southwest and California to look for stones with beautiful combinations of colors and designs.  Upon return to his studio in Colorado, he polishes chosen pieces to bring out their natural beauty and luster.  The jewelry is all hand-made and a combination of the finished gems complimented with natural stones and silver. 
All necklaces, earrings and bracelets are crafted by hand and each stone is unique.  
 new JEWELRY website at: 
Each piece is unique!  
Press the "Shop Now at Chris Collins Creations" below  and visit the website
to view many more creations and purchase your one-of-a kind piece!